Device Information Report
To view the BMR device status for a user, in the BMR User Report tab, click Device Information corresponding to the user. You can find the following information on the dashboard: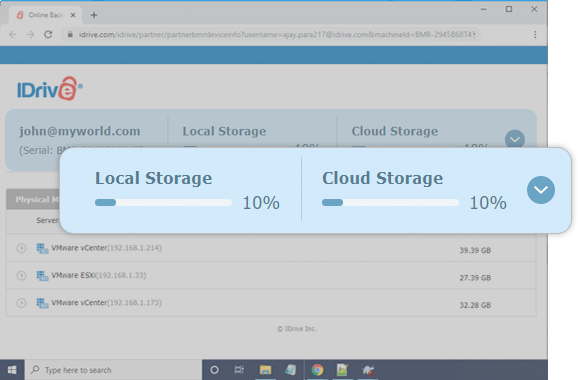 Manage settings
Local Storage
It indicates the storage capacity used on the BMR device.
Cloud Storage
It displays the amount of cloud storage used.
An overview detailing the device's storage consumption, cloud transfer status, backup status, and hardware information is available for this user.
Device Overview
Displays the Device IP Address, LAN Link Speed, System Health status.
Hardware
Detailed reports of the BMR device resource usage. Check the device's memory capacity, CPU count and other details.
Status
View the Last Backup information, Uptime, and the BMR Firmware Version.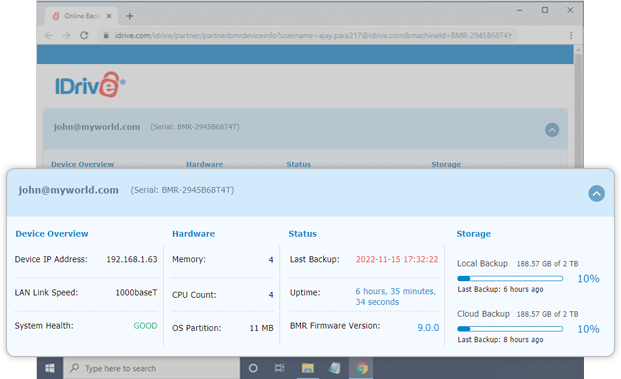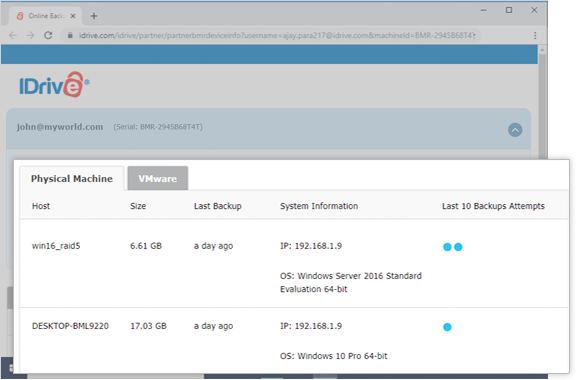 Physical Machines
It provides an overview of all the physical machines that have been backed up for this user, including information like machine name, backup size, system information, and the last 10 backup status.
Learn more

>
VMware
It displays an overview of all the VMs backed up for this user. It includes information like VM name, size of the backup, system information and the last 10 backup status.
Learn more

>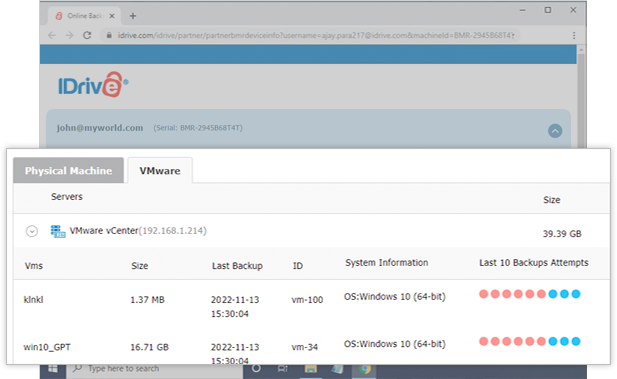 Remotely manage the user's BMR device
BMR Partner Portal allows you to perform various administration functions on behalf of the user, via browser-based remote access of the user's BMR server.


Schedule backups
Perform an immediate incremental or full backup of the machines on the BMR server or schedule their backups.
Create restore points
Initiate data recovery by creating file-level recovery points or virtual instances of your physical machines and VMware servers.
Manage settings
Manage notification settings for BMR server and BMR backup operations.
Know more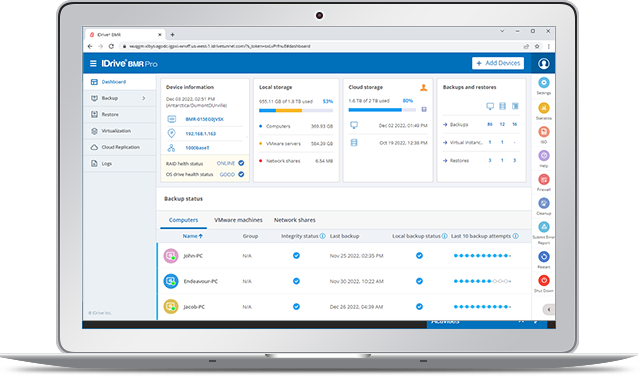 Note:
1. In the case of BMR devices with firmware version 8.3.0 or older, access to the device web interface is established via a remote access window.
2. The end user can disable this access any time via the BMR server interface. Go to 'Settings' > 'Control Panel' > 'Partner Manage'.
Create custom alerts for managed devices
Monitor devices on behalf of users, as a recipient of critical device alerts and notifications. You can custom-configure your alerts system for every user and specify your email address, and additional addresses if necessary, for receiving these notifications.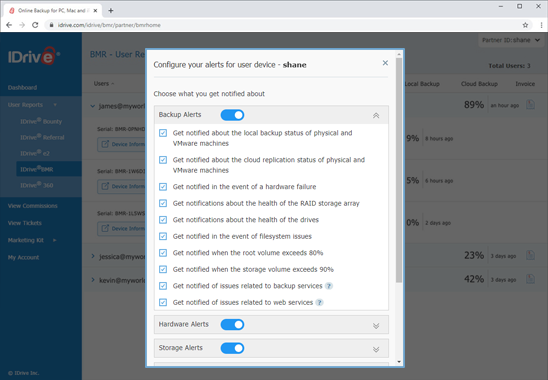 The partner portal allows you to configure your alerts for:
Local and cloud backup operations
Hardware failures and issues
Storage volume thresholds
Service failures and issues